Strand7 Software: In Detail: Elements: Plate Elements
Plate elements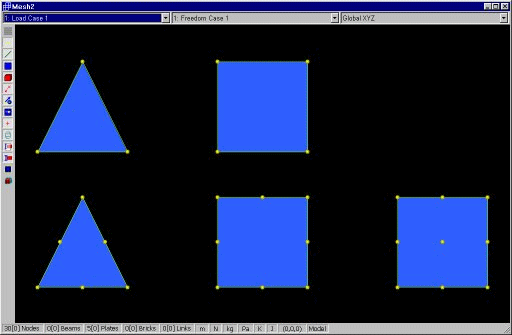 Strand7 plates may be:


Triangular


(3 or 6 nodes)




Quadrilateral


(4, 8 or 9 nodes)
And may be used for analysis of:


2D Plane Stress


for modelling thin two-dimensional sheets subject to in-plane loads.




2D Plane Strain


for modelling very thick structures such as stress analysis through the section of a dam.




Axisymmetric


for modelling rotationally symmetric structures.




Plate/shells


for modelling general 3D structures made from relatively thin material. Plate elements in Strand7 may be either thin or thick. Thick plates consider the effects of shear deformation.




Shear panels


for modelling flat sheets that carry only in-plane shear loads.




3D membranes


for modelling very flexible structures such as draped membranes.